The Funniest Slip-ons For Autumn/Winter
Add something interesting to your feet, wander freely and enjoy all in this season.
Ironic and funny representation of the billion differences between men and women. After all, men come from Mars while women come from Venus... the artist adopts the most modern street art techniques to do two satirical portraits of a man and a woman, the stark contrast between the white center of each piece and the red figures, makes this pair of shoes particularly eye-catching.    
Microfiber Leather Upper
A durable high-class synthetic leather, which is 30% less impactful on the environment compared to animal leathers.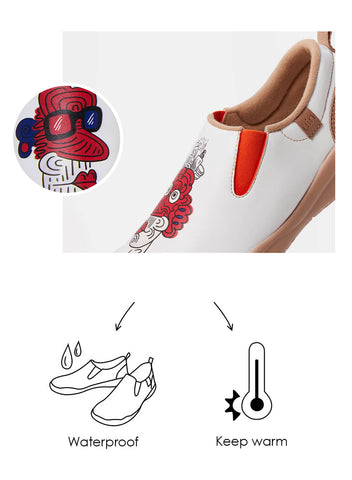 Super Lightweight
Designed to make you feel lighter and more mobile
Easier to Take on & Off
Double elastic band, suitable for high instep. Allows the shoes to be easily taken on or off.
Foot-shaped Design
The insole shape resembles the nature shape of your foot with wider toe box.
Insole
Improved uin insole for all-day comfort
Spanish Non-slip Outsole 
(Thickened Design for A&W) 
A Special Collection of Spanish Essences. Increase the fun of walking
Perfect Choice for Autumn/Winter Outfit 
Details